Apple Trees Wall hanging
A study in deep space and flat surface, Apple Trees is an example of the modernist approach sometimes taken by Deerfield, Massachusetts artisans. True to the Arts and Crafts aesthetic, the design of Apple Trees reflects both the personal vision of its creator and her understanding of the inherent nature of the weaving process and her materials, linen, wool and cotton.
Not unlike the Japanese prints of Hokusai and Hiroshige, well-known in early 20th-century America, Luanna Thorn's thoughtful design simultaneously suggests the illusion of deep space and calls attention to the flat, two-dimensional surface of the weaving. She uses color, sometimes mottled, sometimes dense and highly saturated to create this spacial vacillation. The expansive sky is formed of strongly horizontal strips of indigo, locked onto the planar surface of the work, interspersed with broader, more illusory bands of blue. As if yielding to the weight of the sky above, the foliage and hand knotted fruit of four broad apple trees emerge from squat trunks positioned near the bottom of the composition.
In reaction to the ever-increasing flood of poorly-designed objects churned out by factories and crowded into American domestic spaces, Arts and Crafts artisans invited homeowners to reconsider what they placed in their homes. One carefully-conceived well-made object, such as the weaving Apple Trees (made by hand from natural materials dyed by the artisan who also designed and wove the piece), might be better than a room filled with alternatives such as mass-produced framed prints or textiles.
In Their Words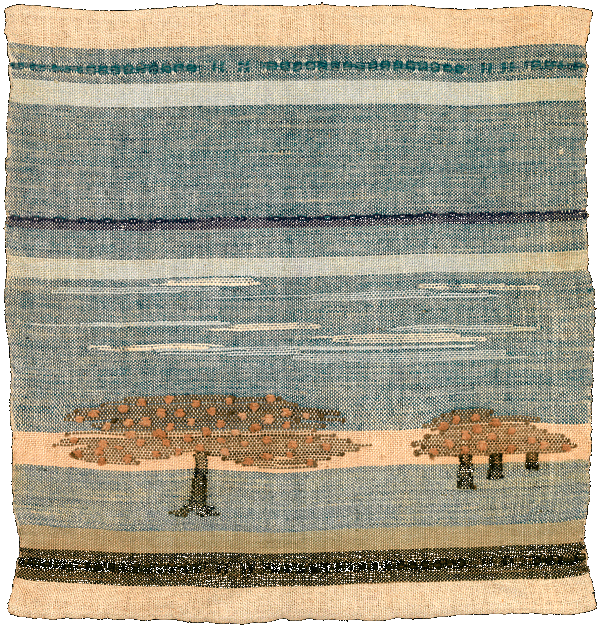 © Memorial Hall Museum, Pocumtuck Valley Memorial Association

Creator:

Luanna (Franklin) Thorn

Date:

1905 - 1925

Dimensions:

H. 17.75" x W. 17.25"

Materials:

Linen, Wool and Cotton