Design in Deerfield
Arthur Wesley Dow and Designing Nature
Landscape in Pottery
Chauncey Thomas, who spent the years 1909 to 1911 in Deerfield, is among the American Arts and Crafts potters who incorporated the design ideas of Arthur Wesley Dow into their work. Thomas studied with Dow at the Pratt Institute in Brooklyn, New York. The teacher's direct influence is apparent in this landscape composition, which Dow would likely have agreed has succeeded as an "arrangement in Opposition and Repetition making a pattern in rectangular spaces."1 Thomas artfully leads the viewer's eye through his landscape composition by means of 'Line idea' (coined by Dow) and by carefully placed fields of color. Grueby in Boston and Rookwood in Cincinnati were two other Arts and Crafts potteries that incorporated Dow's design ideas into their landscape tiles.
Arthur Wesley Dow, Composition; A series of Exercises in Art Structure For the Use of Students and Teachers, 1899, 44.
Comparisons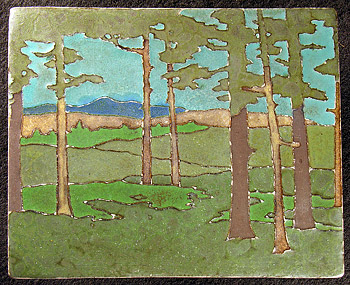 © Courtesy of William Kirby Brown
Landscape Tile
Chauncey Thomas, "The Tile Shop," c. 1913.