Why Deerfield?
Old Houses: Summer Projects and Craft Shops
The Tourist Boom
The escalating popularity of Old Deerfield coincided with the rise and increasing ubiquity of the automobile as the American mode of transportation. By 1903, several manufacturers, capitalizing on the efficient production line, were producing over a thousand cars per year. By 1914, one out of every thirteen American families owned a vehicle, by 1920 it was one in three, and, by 1930, four out of every five families owned an automobile.1 A front page newspaper account of the August 11, 1926, Deerfield Open House suggests just how attractive the public found the town's historical associations:
By 10, they were begging for admission to the houses. By 11, they were hungry! And every hotel and tea-room within a radius of many miles was crowded and people reported that many had entirely sold out of food. The ladies had provided for a food sale on the Common....Cakes and loaves that were to be sold whole, had to be cut into slices. Automobiles were sent rushing for coffee, for lemons, for soft drinks and ice-cream. Baked beans that were to have been taken home by the sight-seers, were served out as portions. The bar in Frary House had hoped to sell 40 or 50 glasses of cooling punch; over 600 were sold, and more would have been demanded if more people could have gotten into the room....2
Auto-ownership statistics David E. Kyvig, Daily Life in the United States, 1920-1940(Chicago: Irvan R. Dee), 2002, p. 27.
Greenfield Recorder, 11 Aug. 1926, page 1+(Quoted in Scott Lannon Wands, "Our Little Project": Preservation Movements In Deerfield, Massachusetts, from 1920-1952, Amherst College Department of History, student thesis)
In Their Words
Comparisons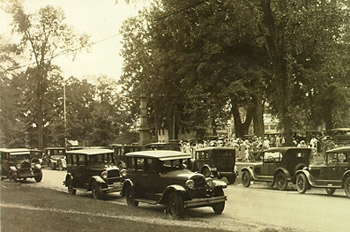 © Memorial Hall Museum, Pocumtuck Valley Memorial Association
Cars at Deerfield Open House
Unidentified photographer, 1926.