Deerfield's Progressive Impulse
Mission Statements and Village Industries
Deerfield Arts and Crafts Society Founded
In 1896, shortly after settling in Deerfield, professionally-trained artists Margaret Whiting and Ellen Miller founded Deerfield's first Arts and Crafts society, the Deerfield Society of Blue and White Needlework. The following May, Ellen Miller hosted a special tea in her home. On this occasion guests were invited to view an informal exhibit of the young organization's work. Following this event, the Miller family's historic home became the permanent location of the Blue and White Society's salesrooms, and the first of many craft shops which would appear on Old Deerfield's main street. Other initiatives soon followed. "The Deerfield rugs," recounted one of that group's early secretaries, "were first placed before the public in 1897 and at that time were much like the old-time rag carpet, being light in weight and easily cared for."1 By the late summer of 1899, the very first Deerfield Arts and Crafts joint exhibition included displays of Blue and White needlework; rag rugs; photographs by the Allen Sisters and Emma Coleman; and the metalwork and woodwork of Chicago Arts and Crafts Society founding member Madeline Yale Wynne. Following another successful joint exhibition during Deerfield's Old Home Days in 1901, Madeline Yale Wynne invited Deerfield crafters to her own historic home, The Manse. By the close of this meeting, Deerfield artisans had banded together to form the Deerfield Society of Arts and Crafts. Wynne was elected its first president.
Mary Wells Childs, "Rugs," The Crafts of Deerfield Massachusetts,, before 1906, Pocumtuck Valley Memorial Association, Library.
In Their Words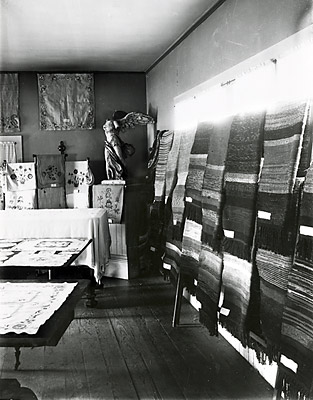 © Memorial Hall Museum, Pocumtuck Valley Memorial Association
Rugs and Needlework at the 1901 Exhibit
Frances and Mary Allen Sisters, platinum print, 1901.