Emma Henry
Lucy Emerine Henry "made the first [netted] canopies and little curtain edge in Deerfield."1 Mrs. Henry's choice of craft and her marketing strategy, point to a Colonial Revival impulse which had a recurring influence on the Deerfield Arts and Crafts. Her work is consistently described as bringing back the handwork of an earlier America. Emma became so closely associated with her craft that photographs of her netting and tufted work were used to illustrate "The Revival of Old-Time Industries: Netting" which appeared in The Craftsman magazine in 1907. The craft of netting is, according to the article "one of the most charming of household arts which our grandmothers loved; forgotten except in villages like old Deerfield, where the excellence of hand-work has always been appreciated."
Interestingly, while in the early 20th century netted testers were frequently used to decorate 18th-century canopy beds in private home and in museum period rooms, (Emma, we know, "sent some netted fringes to decorate a bed in one of the rooms of Mt. Vernon, the home of Washington,")2 it seems quite likely that netted testers were not actually used in colonial New England.3 On the other hand, netting and candlewicking (a form of embroidery that used white cotton cording or roving to create knotted or tufted patterns) were old crafts, and Emma could readily have seen early examples of netted doilies and fringes in Old Deerfield's museum, Memorial Hall.
Lucy Emerine Henry was an active member of the Society of Deerfield Industries. A resident of the Street in old Deerfield, Mrs. Henry periodically opened up her home to those who were interested viewing, and perhaps purchasing, her netted and tufted works, which "were widely known and have been sent to all parts of the country."4
Margery Howe, written statement, PVMA Library.
Greenfield Gazette & Courier, January 27, 1907, 2
Suzanne Flynt, Poetry to the Earth: The Arts and Crafts Movement in Deerfield (Deerfield, Massachusetts: PVMA and Hard Press Editions, 2012) 86, and 117 fn 389.
Mrs. Lucy E. Henry Obituary, Greenfield Gazette and Courier, February ll, 1927.
In Their Words
Comparisons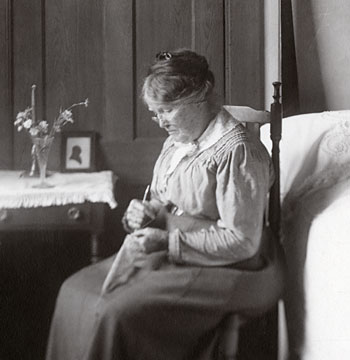 © Memorial Hall Museum, Pocumtuck Valley Memorial Association
Portrait of Emma Henry entitled "Netting" (detail), by Frances and Mary Allen, 1914.
Connections
Treasures

Knotted and Tufted Coverlet

Pin Cushion Top