Memorial Hall
The Pocumtuck Valley Memorial Association's Museum
In 1880, the Memorial Hall became home to the treasures of the Pocumtuck Valley Memorial Association. Here, visitors could view three floors of exhibition rooms filled with objects of significance to the town's history including the Old Indian House door, famous for its association with the February, 1704 French and Indian raid on Deerfield. The oldest part of Memorial Hall was designed in the late 18th century by Asher Benjamin. The building was erected in 1799 as the original Deerfield Academy. It was purchased from Deerfield Academy in 1870.
Memorial Hall's early handcrafted furnishings such as textiles and furniture were the genesis of Deerfield's Arts and Crafts movement. Shortly after moving to town, for instance, Ellen Miller and Margaret Whiting, with Deerfield native Mary Allen, began drawing patterns of colonial embroideries kept in Memorial Hall. While, as one Chicago newspaper reported, "it was their first intention to reproduce merely for actual preservation one replica each of the pieces in the memorial collection,"1 this project soon evolved into something of greater scope, the founding of the Deerfield Society of Blue and White Needlework. "There seemed a special propriety both in time and place for an attempt to revive interest in the old work" recalled Margaret Whiting, "and thus it was begun underneath the village elms by Ellen Miller and this writer in 1896."2
Memorial Hall also possessed a number of turn-of-the-18th-century joined, and carved or painted chests originating from the Hadley area of western Massachusetts. One of these, known as the "AA" chest, after its first owner Abigail Allis; was the direct inspiration for brides' chests built by Dr. Edwin Thorn and Caleb Allen in the early 20th century. The highly-inventive Madeline Yale Wynne took the influence of Memorial Hall's colonial chests in more imaginative directions as she designed and built her own 'brides chests.'
"Old Needlework Copied," The Sun Chicago, Illinois, November 27, 1898.
Margaret Whiting, "Colonial Embroidery," 1931, [38-39]. DSBWN Papers, Box 4, PVMA Library.
In Their Words
Comparisons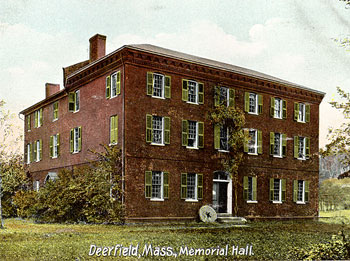 © Memorial Hall Museum, Pocumtuck Valley Memorial Association
Postcard of Memorial Hall, c. 1910.