Village Room
First Deerfield Arts & Crafts Exhibition Space
The very first exhibits of the Deerfield Society of Blue and White Needlework and the fledgling Deerfield Society of Arts and Crafts were held in a small community-shared building located on the Street of old Deerfield known as the Village Room. The Village Room, also called the Martha Goulding Pratt Memorial in honor of the town's fondly-remember postmistress, was dedicated in September 1897. That fall it became the location of the first public exhibition of Deerfield Society of Blue and White Needlework. An 1899 Arts and Crafts exhibit held there included embroideries, rag rugs, photographs and metalwork, woodwork and netting. The Village Room was also used for the group exhibit held during Deerfield's Old Home Days in 1901. The creations of the newly-named Deerfield Society of Arts and Crafts were displayed in the Village Room in 1902. The Deerfield Society of Arts and Crafts was renamed the Society of Deerfield Industries in 1906. This group's shows were held in the Martha Goulding Pratt Memorial in 1906, 1909, and 1928. For the summer exhibition in 1911, tourists could see weaving, rug making, and basketry demonstrations here. The Society also held membership meetings in the Village Room. Finally, in 1906, it was here that the painter Augustus Vincent Tack presented to the Deerfield Industries membership "a very interesting talk on the general principles of Art and design, and used some Japanese prints and textiles to illustrate the beautiful considerations of color which could be obtained."1
Although many of Deerfield's Arts and Crafts related activities occurred within its walls, from the outset, the Village Room was intended to function as a shared, community space where "people could meet for any unsectarian purpose."2 For instance, in April 1909, state representative John W. Haigis presented a lecture on "Woman Suffrage" to a Deerfield audience gathered in the Village Room.
Deerfield Industries minutes, November 1906.
Mary Allen, "A Village Room in Massachusetts,"The Ladies Home Journal 18, no. 11 (October 1901), 32.
In Their Words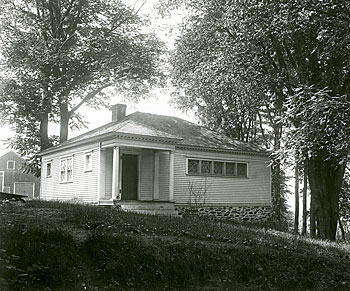 © Memorial Hall Museum, Pocumtuck Valley Memorial Association
The Village Room by Frances and Mary Allen, c. 1900.