Deerfield Arts & Crafts home page
Treasures
Dr. Edwin Thorn Dressing Table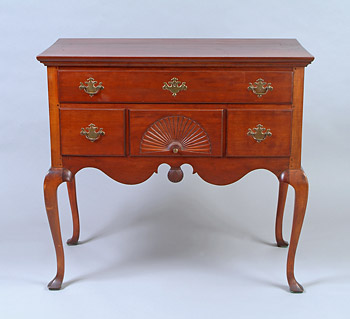 © Private Collection
Following Dr. Edwin Thorn's death, William Abercrombie, the original owner of this Colonial Revival style dressing table, returned it to the physician's widow, Luanna Thorn who would otherwise have not possessed any of her late husband's carpentry work.
Each year between 1904 and 1907 Edwin Thorn showed a "lowboy" (dressing table) at the summer Arts and Crafts exhibition held in Deerfield. William Abercrombie's dressing table was constructed of cherry. It features period brasses, a shell carving on its lower central drawer and a drop scallop shell on its skirt.
Date:

1905 - 1907

Creator:

Edwin C. Thorn

Dimensions:

H. 37.75" x W. 40.75" x D. 22"