Deerfield Arts & Crafts home page
People
Deerfield Rug Makers
1899-1910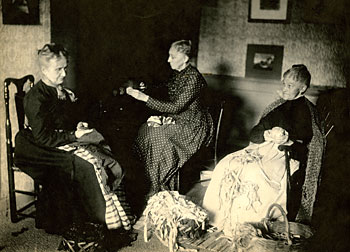 © Memorial Hall Museum, Pocumtuck Valley Memorial Association
Making Rag Rugs, by Frances and Mary Allen, 1902.
Between the late 1890s and 1930s, many Deerfield, Massachusetts women assembled and wove strips of fabric into affordable rag rugs which found a ready market within and beyond the borders of town. This craft initiative became one of the most prolific, long-lasting and far-reaching in the history of the Deerfield Arts and Crafts movement.
By 1906, there were about 60 Deerfield women assembling rag rugs. At the beginning of the process, a rug maker envisioned the final piece, and prepared materials by cutting woolen or cotton cloth into strips. Initially 'stripping' was done by hand, but soon this step was inexpensively and quickly accomplished by a local printer's cutting machine. Strips of colored material, (with at least two different colors per rug), were then sewn together and rolled into balls of separate colors. For the first few years, the prepared fabric was sent to a local weaver with "explicit directions fastened to the material".1 The rug maker paid for production costs, so the final piece was hers to sell. Deerfield Society of Blue and White Needlework business managers Margaret Whiting and Ellen Miller oversaw the early rug sales. In return, the rug makers "paid ten per cent of the price [of each rug] into the fund for a new piano for the Village Room."2 By 1902, most of the rug makers did their own weaving.
The Deerfield Rug Makers were among several craft groups in town that used materials hand-colored with vegetable dyes. The effect of Deerfield's hand-dyed rugs could be enchanting. As one journalist described their hues, "(t)he harmony of coloring here was manifestly evident--the soft shades of brown relieved suddenly by a line of gold--the soft blues, soft pinks, soft grays. All the dyes are home-made and carefully tested for durability...the softened, artistic colors are a distinct improvement on old times."3
Deerfield's rag rugs were relatively affordable. In 1904, their price ranged between $2 and $3 dollars per yard. That year the price of a Blue and White Society embroidered table square ranged from $8 to $30. The Deerfield Rug Makers had nationwide appeal. Their work was exhibited in Chicago and New York City. Deerfield rag rugs were also sold at Chicago's famous department store, Marshall Field and Company.