Deerfield Arts & Crafts home page
Treasures
Vase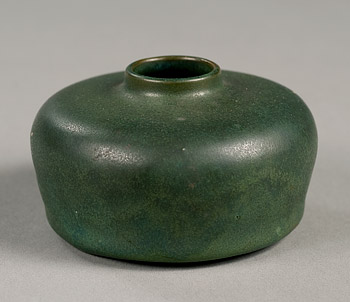 © Memorial Hall Museum, Pocumtuck Valley Memorial Association
In a letter to his ceramics teacher, as Chauncey Thomas contemplated opening a pottery in Deerfield, Massachusetts, the potter expressed his wish to create "honest work, making a thing just what it pretends to be." 1 This desire to fashion "honest" pottery that is nothing more than "what it pretends to be" can be seen in all of the vessels which Thomas created in Deerfield.
This spare red earthenware vase with its matte green glaze has the tactile appeal of a river worn stone while remaining perfectly suited to the role of enhancing, rather than overpowering, the small blooms it was designed to display.
Date:

1909 - 1911

Creator:

Chauncey R. Thomas

Dimensions:

H. 1.75" x Diam. 3.0625"