Deerfield Arts & Crafts home page
Treasures
Pine Needle Tray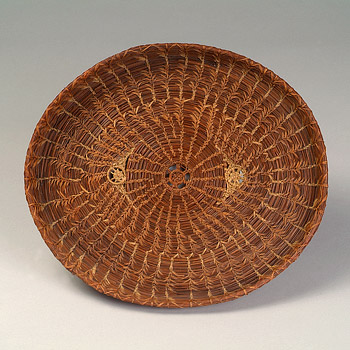 © Memorial Hall Museum, Pocumtuck Valley Memorial Association
A radiating pattern of raffia fibers, dyed in a range of brown tones and tightly sewn around coils of long pine needles, dance across the surface of this early-20th-century tray. The Deerfield Basket Makers began offering baskets constructed of pine needles woven with raffia or linen thread in 1906. As one reviewer marveled, Deerfield's pine needle baskets evoked "the brown of the forest carpet" and, in addition to trays, came in the form small baskets, both with and without covers.1 The Springfield Daily Republican reported that Deerfield pine needle baskets were based upon an African-American basketry style brought back from Georgia and introduced to Deerfield by a pair of sisters who lived in the area.
Date:

c. 1920

Creator:

Deerfield Basket Makers

Dimensions:

H. 7/8" x W. 11 3/4" x D. 10 1/4"