Deerfield Arts & Crafts home page
Treasures
Reed Basket with Cover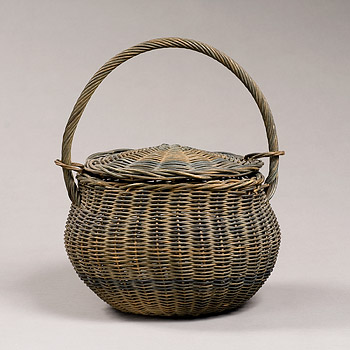 © Memorial Hall Museum, Pocumtuck Valley Memorial Association
The creations of the Deerfield Basket Makers feature functional designs that are simply ornamented with attractive weaves and, at times, dyed materials.
What uses could be made of this highly-functional reed basket with its protective self-closing cover? Ones imagination is the only factor limiting the possibilities. This reed basket is just the right size to hold fragile, freshly-picked berries. Lined with a cloth napkin, the basket would keep baked treats warm on the short walk to visit a sick friend. Placed in ones own home, this covered reed basket would protect a collection of small treasures or keep mundane, everyday items out of sight.
Date:

c. 1920

Creator:

Deerfield Basket Makers

Dimensions:

H. 12" x W. 9"