Deerfield Arts & Crafts home page
Ideas
A Stitch in Time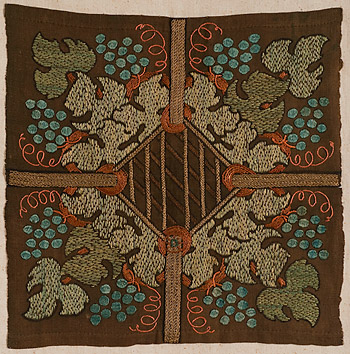 © Memorial Hall Museum, Pocumtuck Valley Memorial Association
Deerfield Society of Blue and White Needlework, Grape Arbor, c. 1910.
Allotting Hours for Stitching an Embroidery
In 1901, Blue and White Society business manager, Margaret Whiting proudly stated, "[we] pay...labor at the rate of 20 cents an hour for skilled work",1 (the going hourly rate for embroidery work was 10 cents as late as 1907). So, how did the Deerfield Society of Blue and White Needlework determine the final cost of a piece? The organization set a price of $25.00 for their autumn-inspired Grape Arbor. To determine the embroiderers' fee, they often relied on time studies. By measuring how long it took an embroiderer to stitch a clump of grapes, for instance, they decided that it should take a half hour, using the New England laid stitch to complete each bunch of grapes on this work. Each darning-stitched leaf, would take one half hour, as would the four chain stitched posts. The entire piece was allotted twenty hours, therefore the embroiderer received $4.00. A time chart, which still exists for this work, indicates that the customer price included a $10.00 design fee (earned by either Margaret Whiting or Ellen Miller), $1.50 for materials, $2.00 to hand dye materials, a $3.00 "Burden" fee, and a $4.50 profit fee.