Deerfield Arts & Crafts home page
People
Frances Allen
1854-1941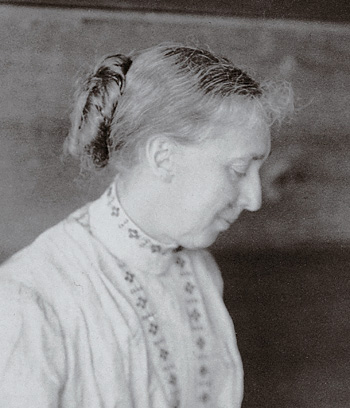 © Memorial Hall Museum, Pocumtuck Valley Memorial Association
Portrait of Frances Stebbins Allen, by Mary Allen, c. 1906.
Nationally-acclaimed pictorial photographer Frances Allen, and her equally-famous sister, Mary, lived in Deerfield, Massachusetts their entire lives. During Deerfield Arts and Crafts movement they pursued their art, and actively participated in exhibitions. Although Frances was elected as the Society of Deerfield Industries' Director of Photography in 1907, and for a short time, embroidered for the Blue and White Society, she tended to shy away from the day-to-day concerns of the movement. This was in contrast to Mary, who actively supported both the Deerfield Society of Blue and White Needlework and the Society of Deerfield Industries.
Trained as a teacher, Frances Allen worked in Greenfield and Worcester County, Massachusetts' schools for a decade. She and her sister turned to photography after losing their ability to hear. The Allen sisters began taking photographs in 1884 and, within four years, were doing so on a professional basis. In 1895, Mary and Frances Allen moved into their family's ancestral home on the Street in old Deerfield. Here the Allen sisters offered prints for sale from a "permanent exhibition" of "photographs accumulated from years of work, chiefly...in New England."1
Many Allen sisters' photographs represent a vision of Deerfield's colonial past and are evidence of the Colonial Revival interests that the photographers shared with other Deerfield Arts and Crafts artisans. Further, Mary and Frances are to be thanked for so well documenting the Deerfield Arts and Crafts movement with their work. Still, the artfulness of their creations brought into question their association with the Arts and Crafts. Mary Allen justified the inclusion of their platinum prints beside Deerfield embroideries, baskets, and rugs, by suggesting that "photographs stand midway between the arts and crafts."2 Another author argued that, "the work of Miss Frances Allen and Miss Mary Allen...would be equally at home in this room or next door to the small gallery of paintings which Mr. Tack has hung in his studio. The Misses Allen use their camera in the same spirit with which a painter uses his brush, and their sense of composition, of the dramatic moment, is as eminent a qualification for their work as for his."3 Frances was renowned for her images of children.