Deerfield Arts & Crafts home page
People
Ellen Miller
1854-1929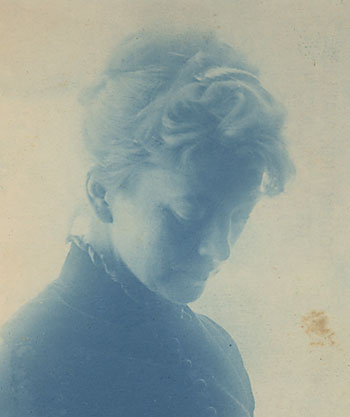 © Memorial Hall Museum, Pocumtuck Valley Memorial Association
Portrait of Ellen Miller, by Frances and Mary Allen, c. 1895.
Margaret Whiting once described her friend Ellen Miller as, "in her own world, a bit remote,"1 a characterization borne out by this image of Ellen, an ethereal three-quarter view of the artist in a downward gaze. Whiting and Miller founded the Deerfield Society of Blue and White Needlework in 1896. While Margaret Whiting soon took on the organization's business operations, and articulated its vision to the public, Ellen Miller colored its aesthetic with the lush but understated tones of her hand-dyed materials. Both artists are credited with the Blue and White Society's enchanting designs.
Ellen Miller attended art classes in New York City, at the National Academy of Design, and, with Margaret Whiting, at the Art Students League in the 1880s. Together Miller and Whiting wrote and illustrated the botanical field guide, The Wild Flowers of the Northeastern States which was published in 1895. Soon after their families relocated to the western Massachusetts village of Deerfield, Ellen and Margaret began to search out, study, and sketch the colonial embroideries collected in and around Deerfield. As Margaret Whiting remembered of this time, "there seemed a special propriety both in time and place for an attempt to revive interest in the old work, and thus it was begun underneath the village elms by Ellen Miller and this writer in 1896." Of the work that followed, Whiting believed it was, "very interesting and rather exciting," and "having some success" though she found that "the effort to establish an industry in Deerfield is leading Ellen Miller & myself a dog's life."2
Beginning in 1897, summer tourists could find the Deerfield Society of Blue and White Needlework showrooms at the sign of the flax wheel beside the side entrance to the Miller family home. In this colonial house, located on the Street in old Deerfield, customers might view examples of the Society's work, displayed as they were meant to be used, within a fully furnished domestic setting.