Deerfield Arts & Crafts home page
People
Annie C. Putnam
1850-1924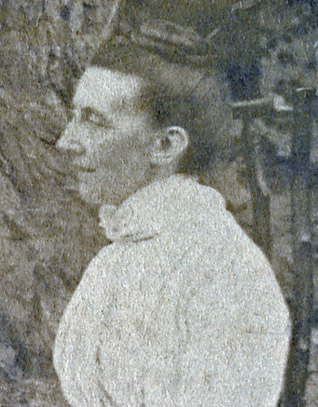 © Memorial Hall Museum, Pocumtuck Valley Memorial Association
Unknown Photographer, Yale Family Photograph
"Much of Annie Putnam's life was devoted to the study of art," remembered her Deerfield neighbor, Mary W. Fuller, "She painted well and loved it greatly. Music also was a favorite occupation....So true was her ear that for one of our musical events at Frary house, she tuned a set of inverted flower pots, hung upon a rope, and played melodies upon them, surprising everybody by their beautiful tone. She began her study of art in Boston in the late seventies....In the early eighties she went to Florence, and while there she met Madeleine Wynne, and then began a devoted friendship, which was to last as long as life itself. After that they were never long separated. For a number of years they had a studio in Boston where they did metal work as well as painting, usually spending their summers in Deerfield."1
One of a handful of professionally-trained artists participating in the Deerfield Arts and Crafts movement, among Annie Putnam's teachers was the famous Boston painter, William Morris Hunt. Beginning in 1886, Annie and Madeline Yale Wynne lived in their Deerfield home, the Manse, during the summers. Annie Putnam displayed her work in eight of Deerfield's ten earliest Arts and Crafts exhibitions. In addition to painted objects, she exhibited pottery, leather work and metal work (including silver and gold jewelry, silver and copper vessels and silver spoons).
In 1902, Annie Putnam joined the Society of Arts and Crafts, Boston, and maintained that membership for the rest of her life. Although a member of Boston's Arts and Crafts society, Annie never exhibited with that organization. She was of the opinion that its jury was too rigid. Through their judgements, she thought they were "trying to make all keys fit the same keyhole,"2. While weary of the "danger of 'Standards,'" Annie was an advocate for exposing Arts and Crafts artisans to design and handicraft instruction. As the Deerfield delegate to a March, 1907, organizational meeting of the newly-formed National League of Handicraft Societies, headquartered in Boston, she declared, "The one crying need of all the Societies, & especially, of course those in the country towns, was for instruction--in design, in handicraft et[c]...I hope very much that Deerfield will join the League...I feel the gain would be well worth the candle apart from the fact that it would be the means of helping other societies."3 In 1908, Deerfield hosted the first annual National League of Handicraft Societies conference.
A member of the Society of Deerfield Industries, Annie Putnam served on its board of directors in the first years of the 20th century.