Deerfield Arts & Crafts home page
People
Edwin C. Thorn
1875-1920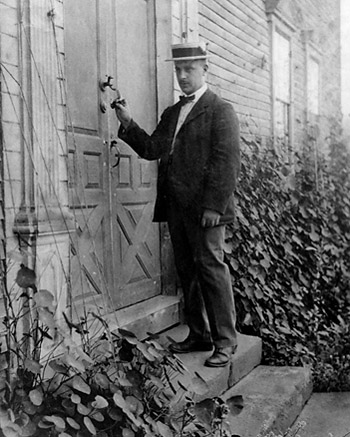 © Private Collection
Portrait of Dr. Edwin Thorn, by Mary Allen, c. 1918.
When Dr. Edwin C. Thorn, and his wife Luanna moved into a mid-18th-century home in Deerfield, Dr. Thorn had been a member of the Deerfield Society of Arts and Crafts for several years. A willow basket and furniture maker, he served as one of seven directors of the Society between 1901 and 1902, and he became the Society's director of furniture in 1903. The Thorns lived so close to old Deerfield's museum, Memorial Hall, that they could walk to it in minutes. The 17th and 18th century furniture which Edwin Thorn saw there directly inspired his own Colonial Revival creations. For the Thorns, the arts and crafts were a family affair. His wife Luanna, also a member of the Society of Deerfield Industries, was a noted weaver. Their home, located on the Street, was also the Deerfield Handicraft Shop.
In the first decade of the 20th century, Edwin Thorn's furniture was a popular addition to Deerfield's summer craft exhibits. In 1906, one of his Bride's Chests was exhibited at the Deerfield Society of Blue and White Needlework shop located across the street from his own home.