Deerfield Arts & Crafts home page
Places
The Deerfield Pottery
Chauncey Thomas: Hand thrown & glazed pottery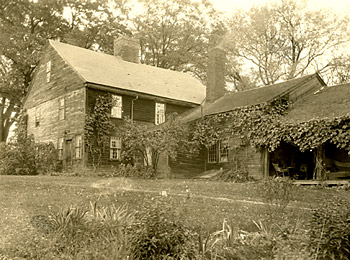 © Memorial Hall Museum, Pocumtuck Valley Memorial Association
House rented 1909-1911 to potter Chauncey Thomas, by Francis and Mary Allen, c. 1900.
Beginning in 1909, the potter Chauncey Thomas rented this house on the Street of old Deerfield from the photographers Frances and Mary Allen. It was here that he finished and sold his hand-thrown pottery between 1909 and 1911. His workshop and kiln were located behind the house on the same property.
One of Deerfield's early homes, the house was built 1771/72 by Eldad Bardwell who, for a short time following the American Revolution, was a tavernkeeper. In the first half of the 19th century, broommaker Dennis Stebbins sold his wares out of this house.1 In 1905, Francis and Mary Allen acquired this house, their mother's ancestral home.