Deerfield Arts & Crafts home page
Places
The Manse
Summer Home of Artisans Madeline Yale Wynne & Annie Putnam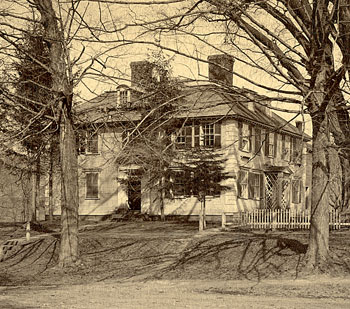 © Memorial Hall Museum, Pocumtuck Valley Memorial Association
The Manse, by Emma Coleman, c. 1885.
Nationally-recognized Arts and Crafts artisans Madeline Yale Wynne and Annie Putnam named their 18th-century Deerfield home the Manse, short for mansion house. Their restoration of this Georgian-style house (built 1769-1772) was the first of many such projects undertaken in Deerfield at the end of the 19th century. Beginning in 1886, Madeline and Annie spent their summers in this home, and other parts of the year in Chicago and Boston.
Always willing to share her talents and inspiration, Madeline, early in the 20th century, taught raffia basketry techniques to a group of Deerfield women assembled on the porch of her summer home. Among her students were future-weaver Eleanor Arms and Gertrude Ashley, who later wrote Raffia Basketry as a Fine Art. Wynne also founded and held the first annual meetings of the Deerfield Arts and Crafts Society at the Manse.
Both Wynne and Putnam were well known for crafting unique jewelry pieces using a variety of metals and other materials such as enamel and pebbles. Madeline created a studio with a forge in a barn behind the Manse. The two women also owned another barn on nearby Albany Road. Popularly referred to as the Crafts Barn, it became an early summer exhibition space for Deerfield's Arts and Crafts. Madeline and Annie also shared studio space in the Little Brown House, located a short distance from the Manse and purchased by Annie in 1890.
The Manse was an inspiration for Madeline Yale Wynne. The artist imagined her own spirit haunting her Deerfield home in a work entitled Returning to the Manse as a Ghost which she painted around 1890, and it was the home from which emanated the three 18th-century "brides in blue" included in her article "Deerfield Doors" published in Good Housekeeping, in November 1899.