Places
Main Street Old Deerfield, MA circa 1910
In the early 20th century, a paper version of this map was offered to tourists. It served as a guide to Deerfield's historic houses and to its Arts and Crafts shops (often one in the same). The map underscored the important point that the Deerfield Arts and Crafts movement was bound, both aesthetically and physically, to vestiges of the town's Colonial past.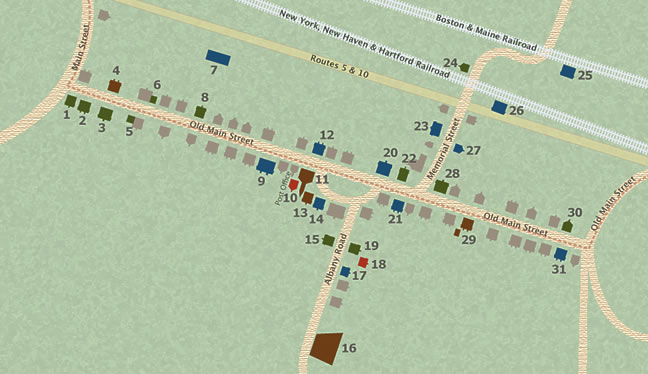 1. Emma Henry House

Netting & Tufted Work
Emma Henry sold pure-white tufted and knotted bedspreads, and netted bed canopies or testers from her home. These hand-crafted textiles were popular with homeowners wishing to decorate their old canopy or 4-poster beds in a colonial style.
2. The Red Shop

Gertrude Ashley: Pocumtuck Baskets
Between 1911 and 1928, Gertrude Porter Ashley sold the raffia and grass baskets, made by the Pocumtuck Basket Makers, in the Red Shop, located beside her home. The Pocumtuck Basket Makers were one of two basketry groups in town.
3. Hawks Shop

E. Jane & Susan Hawks: Woven Fabrics, Baskets & Antiques
Between 1911 and 1930, E. Jane Hawks and Susan Hawks sold woven fabrics, baskets and antiques from this house built in 1755, also the birthplace of George Sheldon, the town's resident historian and the founder of Deerfield's historical society, PVMA.
4. Ebenezer Hinsdale House

Home of Raffia Basket Maker Sarah Cowles
Ebenezer Hinsdale, who owned and operated trading posts in Deerfield, MA and Hinsdale, NH, built this house in 1730s. His nephew and namesake renovated it in 1816. Early in the 20th century, Sarah Cowles, a raffia basket maker, lived here.
5. Gertrude Cochrane Smith Shop

Netting & Candlewick Embroidery
Gertrude Cochrane Smith sold netting and tufted and knotted textiles from her 1785 house on the Street of old Deerfield, between 1911 and 1924. During the 19th century, the building housed a school for young ladies.
6. The Deerfield Pottery

Chauncey Thomas: Hand thrown & glazed pottery
Between 1909-1911, Chauncey Thomas finished and exhibited his Deerfield Pottery in this building dating to 1771/72 which, for a short time following the Revolutionary War, had housed a tavern. The potter's kiln was also located on the property.
7. Old Deerfield Historical Pageants

Behind the Allen Sisters' House: 1910, 1913 & 1916
The historical pageants of old Deerfield were held in 1910, 1913, and 1916 behind the Allen homestead. Thousands of tourists watched hundreds of costumed residents reenact events glorifying the memory of the town's 17th c. settlers and their descendants.
8. The Allen Sisters' Sales Room

Frances & Mary Allen: Photographs
During the first three decades of the 20th century, nationally-recognized photographers Frances and Mary Allen exhibited and sold prints of their work from their ancestral home(1734). The sisters added a special developing room to the house in 1903.
9. The Pocumtuck House

Hotel: J.H. Briggs, Proprietor
Tourists visiting old Deerfield could rent a room at the Pocumtuck House. This hotel was conveniently located on the trolley line which also passed by Deerfield's historic houses and craft shops on its way from Greenfield to Northampton.
10. Village Room

First Deerfield Arts & Crafts Exhibition Space
A memorial dedicated to Deerfield's long-time postmistress Martha G. Pratt in 1896, the Village Room was a community gathering place for over 60 years. Deerfield Arts and Crafts artisans held their first group exhibition here in 1899.
11. The Brick Church

Deerfield's 5th meeting house (built 1824) served as a spiritual and civic center of the town. It was during "a great gathering" here that Madeline Yale Wynne first inspired town residents to consider taking up Arts and Crafts activities.
12. The Manse

Summer Home of Artisans Madeline Yale Wynne & Annie Putnam
Artisans Annie Putnam and Madeline Yale Wynne dubbed their 1769-1772 house 'The Manse,' short for mansion house. One summer day, Deerfield women learned of the craft of raffia basketry as Madeline taught the basics to guests gathered on her porch.
13. Site of Old Indian House

Involved in the February 1704, Raid on Deerfield
The February 1704 French and Indian raid that resulted in a forced march of over 100 Deerfield adults and children to Canada fascinated tourists. The Old Indian house (taken down 1848) had stood in the fortified settlement destroyed during the conflict.
14. Ye Stockade Shop & Tea Room

Between 1910 and 1911, Mrs. Lurane L. B. Wells ran a tea room near the site of the Old Indian House. "Ye Stockade Shop & Tea Room" exemplifies the myriad ways in which Deerfield residents capitalized on the town's Colonial heritage appeal.
15. John Williams House

Mary Wells Childs: Deerfield Rugs
In 1912, Mary Childs sold rag rugs in the 1760 house built by the son of Deerfield's first settled minister, John Williams. Deerfield Industries treasurer Mary Allen predicted "tourists will soar with joy at getting into the sacred building."
16. The Old Burying Ground

In 1901, C. Alice Baker erected a communal grave marker for the dead of the February 1704 French and Indian raid on Deerfield. The press fostered interest in this famous event drawing thousands of tourists to the western Massachusetts town.
17. The Little Brown House

Summer Studio of Annie Putnam & Madeline Yale Wynne
Purchased by Annie Putnam in 1890, The Little Brown House became the studio which she shared with Madeline Yale Wynne in the first years of the 20th century. The pair created and displayed their jewelry, paintings and enamels here until 1915.
18. Crafts Barn

Group Exhibit Space: 1903-1907, 1911
Madeline Yale Wynne and Annie Putnam offered their barn as an early summer exhibition space for the Deerfield Society of Arts and Crafts, founded in 1901. The organization was renamed the Society of Deerfield Industries in 1906.
19. Eleanor B. Stebbins Shop

Deerfield Baskets
Between 1905 and 1920, Eleanor B. Stebbins displayed the work of the Deerfield Basket Makers in her colonial home. According to town historian George Sheldon, the 18th-century weaver Elizabeth Amsden sold textiles from a building on this same site.
20. Frary House

Summer home of C. Alice Baker & Emma Coleman
In the early 1900s, Frary House was inaccurately believed to be the oldest house in town, the sole survivor of the 1704 raid. Emma Coleman held a palm leaf "braiding bee" here in 1899. This event led to the founding of the Deerfield Basket Makers.
21. Home of Margaret Whiting

Co-Founder of the Deerfield Society of Blue and White Needlework
Blue and White Society co-founder, designer, and business manager Margaret Whiting lived in this house, located across the street from the Ellen Miller's home where Deerfield Society of Blue and White Needlework embroideries could be seen and purchased.
22. Deerfield Society of Blue and White Needlework Shop

Ellen Miller: Embroidery
The Deerfield Society of Blue and White Needlework shop was located in this home built by John Nims, who as a young man escaped captivity following the 1704 raid on the town. Blue and White Society co-founder Ellen Miller lived here with her family.
23. Memorial Hall

The Pocumtuck Valley Memorial Association's Museum
In 1880, the Asher Benjamin designed Deerfield Academy (built in 1798) became Memorial Hall. The colonial-era handiwork displayed in this museum, owned by the PVMA, strongly influenced the Deerfield Arts and Crafts movement.
24. Cornelius Kelley Blacksmith Shop

Hand-Wrought Ironwork for the Home
After moving to Deerfield in 1899, the village blacksmith, Cornelius Kelley, sold hand-wrought ironwork, including decorative pieces such as candlestick holders and plant stands, at his shop near the railway station where he moved in 1904.
25. Boston and Maine Railway Station

By the early 20th century, tourists were encouraged to learn about the past with a trip to old Deerfield. A variety of transportation modes, including trains, automobiles, and a trolley were open to visitors from Boston, New York, Hartford, and beyond.
26. New York, New Haven & Harford Railway Station

Long-distance consumers wishing to view and purchase Deerfield Arts and Crafts work, would have found old Deerfield readily accessible by automobile, by train and by trolley.
27. Olde Deerfield Doll House

Matilda Hyde: Old Deerfield Souvenirs
Matilda Hyde moved her tearoom and giftshop from the Common to Memorial Street in 1923. Here tourists could purchase old Deerfield souvenirs, including tea accessories, books, and paper dolls themed to the story of the 'Little Captives of 1704.'
28. Deerfield Handicraft Shop

Luanna Thorn: Woven Fabrics & Baskets
For much of the early 20th century, weaver Luanna Thorn lived, worked and operated the Deerfield Handicraft Shop in this 1747/48 house. Lucy Terry, a Deerfield slave and the first African American poet, lived and worked here in the 18th century.
29. Champney Home & Studio

During the late 19th century, the studio of artist, illustrator, and photographer James Wells Champney was located next to his Deerfield home built c. 1730. A tailor and a blacksmith had maintained businesses on this same property in the 1700s.
30. The Loom

Eleanor Arms: Woven Fabrics & Baskets
For 25 years, beginning in 1911, customers visiting this shop would likely find Eleanor Arms hard at work behind her 300-year-old loom. In addition to rag and woolen rugs and hand-woven fabric items, Eleanor made and sold palm leaf baskets from her home.
31. Summer Home of Augustus Vincent Tack

Tourists viewing the summer exhibitions could often see the paintings of Augustus Vincent Tack, who spent summers in town between 1899 and 1920. He presented a lecture on Japanese design principles to the membership of the Deerfield Industries in 1906.