Why Deerfield?
Films and Pageants, Portraying Colonial Heritage
Portraying Deerfield's History
The Colonial Revival movement, out of which "old Deerfield" was formed, is a cultural phenomenon that, ultimately, reveals more about the desires and concerns of people living in the late-nineteenth- and early-twentieth-centuries than it does about America's history before becoming a nation. The stories which hundreds of costumed Deerfield residents enacted before thousands of tourists in 1910, 1913 and 1916 memorialized and prioritized English (vs. non-English participants') ancestors' efforts to establish, defend and build their town. The myth of inevitability that emerges from this heritage tale reflects a belief in the unlikely possibility that, indeed, the history of Deerfield could only have happened in only one way. The carefully chosen and constructed narrative which the Pageant of Old Deerfield offered to the public was a counterpoint to, and likely a comfort from, its audience's experiences of a much less certain early-twentieth-century America, characterized by rapid and unsettling changes in urbanization, industrialization and immigration.
In Their Words
Comparisons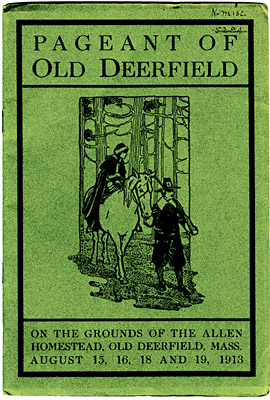 © Memorial Hall Museum, Pocumtuck Valley Memorial Association
Pageant of Old Deerfield, Brochure
The Pageant of Old Deerfield was held on the grounds of the Allen Homestead and benefited the Village Improvement Association. Artist unknown, 1913.