Deerfield's Progressive Impulse
That "band of industrious and brainy women"
Women and the Progressive Era
Between 1890 and 1920, American middle class women took on many of the activist initiatives of the Progressive era. In fact, women were at the head of many of the reform organizations founded at the turn of the twentieth century. Among them was Julia Lathrop, appointed by President Taft to run the Department of Labor's Children's Bureau, founded in 1912. For 33 years Florence Kelley advocated for improved conditions for factory laborers as head of the National Consumer's League. Jane Addams and Ellen Gates Starr (who had ties to Deerfield) served the poor and working class populations of Chicago at the famous Hull House. Ida B. Wells helped to found black women's clubs and, through public speaking engagements, sought to raise awareness about lynching. By actively working to redefine such issues as labor conditions for the working class; suffrage for women; temperance; race relations and access to birth control these women expanded the sphere of feminine influence from the private home to the public welfare.
In Their Words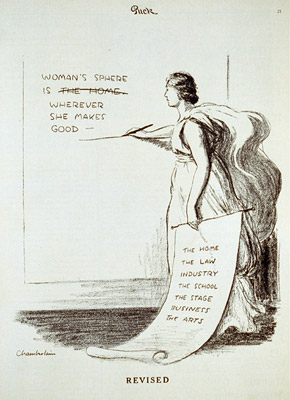 © Collection of the Library of Congress
"Revised"
Kenneth Russell Chamberlain, Illustrated in Puck Magazine, April 14, 1917, p. 21.