Design in Deerfield
Arthur Wesley Dow and Designing Nature
Nature in Art
The natural world was of fundamental importance to Arts and Crafts artisans. Nature was one of the most significant inspirations for their subject matter and was the almost exclusive source of their materials. Further, it is important to understand that the goal of the Arts and Crafts designer was not to mimic what she/he saw in nature, but rather to translate that vision into Art. An example of this can be seen in "The Blue Pool" by the Deerfield Society of Blue and White Needlework. This compostion is as much a harmonious arrangement of horizontal and vertical bands of color as it is a forest scene. While variety in the branches and grass lends a sense of naturalness to the design, one would be hard pressed to locate a specific spot in the natural world where a row of trees is so symmetrically balanced as in this composition.
Comparisons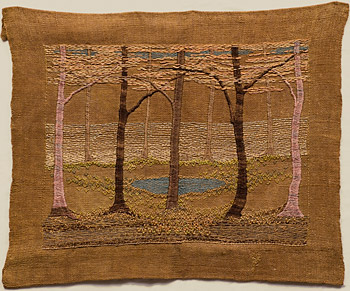 © Memorial Hall Museum, Pocumtuck Valley Memorial Association
The Blue Pool
Deerfield Society of Blue and White Needlework, 1910-1915.