Deerfield Society of Blue & White Needlework
Founded in 1896 by friends and fellow artists, Ellen Miller and Margaret Whiting, the Deerfield Society of Blue and White Needlework produced exquisitely designed and executed embroideries in Deerfield, Massachusetts, for close to thirty years. Referred to by Ellen Miller as "our Virtuous Sweatshop," at its peak the organization trained and employed between twenty-five and thirty needle workers, most of whom lived in town.1
Because the Blue and White Society gave aesthetic considerations primacy over all other concerns (such as the affordability of its products or improving the lives of its workers) the thriving organization was highly protective of its reputation. In aiming "to produce...embroideries of the highest excellence," one journalist noted, "no classes are held," by the Society, "to teach the general public, nor are designs or materials sold." A highly visible seal ensured a work's authenticity, "the mark of the Society--a flax wheel holding the letter D in the center-- is wrought upon every finished piece of embroidery, both as a protection under the law and a seal of approval of the work."2 The seal was designed by photographer Mary Allen, who was one of the Blue and White Society's first embroiderers.
Margaret C. Whiting to Emily G. Balch, Wellesley, MA, Oct. 25 [1896]. Whiting Papers, PVMA Library.
Mary Emily Curtis, "The Crafts of Deerfield," New Idea Woman's Magazine, c. 1905, 20.
In Their Words
Comparisons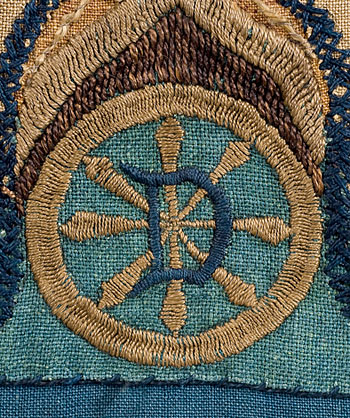 © Saint James Episcopal Church, Greenfield, Massachusetts
Deerfield Society of Blue and White Needlework, 'D' in a flax wheel, the trademark of the Blue and White Society